Put your data to work to drive strategic and tactical decision making.
Speed is the big differentiator for today's businesses. How quickly companies can gain new insights, make decisions and arrive at outcomes can make the difference to the real business. To gain a competitive advantage, organizations are looking for new ways to accelerate the insight process and simplify IT complexity with data analytics tools that leverage existing investments.
Information Data is constantly flowing in and out from customer interactions, survey, and internet search traffic. Put your data to work to drive strategic and tactical decision-making using our Diagnostic & Exploratory analytics methodology. Leverage the big data and predictive analytics expertise of a team with cross-functional experience across financial services, healthcare, and manufacturing with immediate ramp-up via onshore & offshore teams.
Our Survey Design Methodology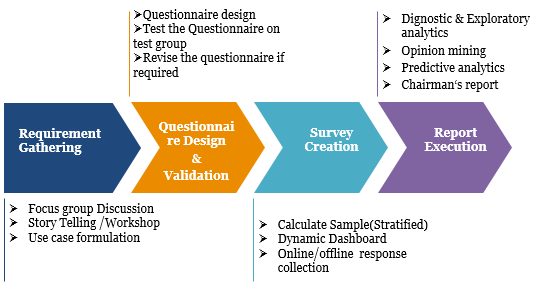 What Makes It Unique
IVR Improvement
Law Ministry Call Center Analysis Text Analysis on call reason notes and segmentation

Smart Recruitment
Building of a smart recruitment system which would help client Hire better talent

Reduce Attrition Rate
Early Warning System – Employee Attrition Model survey helped our client to save the valued resources.

Employee Satisfaction
Employee Satisfaction Survey Analysis, to find reasons of happiness and reasons which turns off employee
Claim Detection
Identify Fraud claim Detection, Algorithm to find outliers in claims submitted by customers.
Volume Forecasting
Volume Forecasting for IT Support Tickets to know how many resources required in one shift.