SharePoint integrates intranet, content management, and document management. The SharePoint platform integrates directly into Microsoft Internet Information Services (IIS), which enables bulk management, scaling, and provisioning of servers, as large organizations and cloud computing providers often need. As more and more companies deploy the Microsoft SharePoint collaboration platform it is becoming increasingly clear that successful use of the technology requires careful planning, management and ongoing governance. At the administrator level, SharePoint's complexities require careful consideration when it comes to integrating the system with business processes and making sure files and data are backed up in case disaster strikes.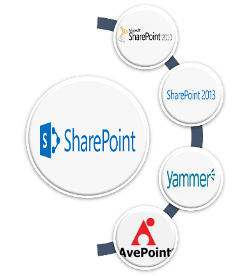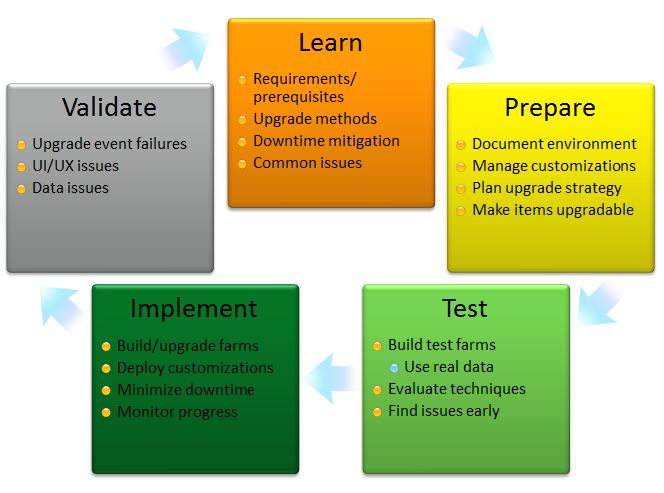 SharePoint Upgrade project involves planning for the upgrade itself. Planning for the technical challenges of a SharePoint upgrade can be perplexing. The sheer number of variables involved and the limitations of out-of-the-box upgrade approaches can complicate the project and introduce unacceptable risk. It is critical to plan a SharePoint upgrade carefully and fully take into account all variables involved in the upgrade process.
BridgeOceans experts have hands on knowledge on upgrading SharePoint servers as lower as SP 2003, SP 2007 to SP 2010 , SP 2013 and SharePoint Online(Office 365). A well planned upgrade strategy helps to reduce the risk of failure upgrade, which includes understanding prerequisites, validating upgrade event failures, preparing upgrade method, making items upgradable , common issues, downtime mitigation, building test farms, monitor progress.
Microsoft SharePoint Server Migration
Successfully completing a migration to SharePoint 2010 , SharePoint 2013 or SharePoint Online from an older SharePoint platform requires careful planning and analysis. There are many types of migration activities, each with their own unique types of data to be migrated and requiring a different approach. However, it is vital for organizations to be aware that they do not have to be constrained by a limited migration approach; migration and upgrade projects are an opportunity to free SharePoint content so that end-users, developers and administrators can all benefit from improved information architecture and functionality.
Our perfect planning for a SharePoint migration helps our customer for smooth migration with minimum risk involved in it. Our migration plan includes major milestones like , preparing architecture plan, pre-migration checklist, considering existing customization and integration, preparing migration test plan, evaluating migration tools like Metavis, AvePoint, understanding Microsoft In-Place Upgrade, Database attached upgrade process,post-migration checklist & migration verification.